Welcome To Our Website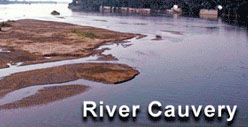 About Trichy
Tiruchirappalli, situated on the banks of the river Cauvery is the fourth largest city in Tamil Nadu. It was a citadel of the early Cholas which later fell to the Pallavas. Trichy is a fine blend of tradition and modernity built around the Rock Fort. Apart from the Fort, there are several Churches, Colleges and Missions dating back to the 1760s. The town and its fort, now in Trichy were built by the Nayaks of Madurai. This city has given great Tamil scholars whose contributions to the Tamil literature have been very significant.
International Airport

Trichy has an airport (5 kms from the city). Indian Airlines connects Trichy with Chennai, Sharjah, Kuwait and Colombo. Air Lanka Service connects Tiruchirapalli with Colombo.

Indian Airlines-Railway Co-operative Mansion, Dindigul Road, Trichy - 620 001. Phone: Office-23116, Airport-27563 Air Lanka-C/o Hotel Lakshmi, Trichy.
Trichy Visiting Places
Trichy Rockfort Temple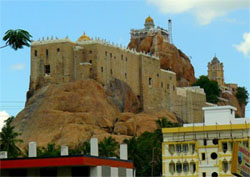 Samayapuram Mariamman Temple