Tour Packages
Munnar
A pleasant spot in God's own country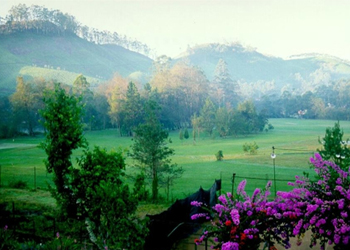 Munnar
At a height of about 1800 m from the sea level, Munnar is a tranquil tourist destination in God's own country. As the name specifies Munnar is the place where the three rivers Mudrapuzha, Nallathani and Kundala converge.

Munnar has got everything that gives inspiration, peace and relaxation to your mind. Just imagine a spot where you can see placid lakes, glittering streams, valleys, green-dressed mountains, meadows and so on. Definitely, Munnar brings what you want making your imagination a reality.

The Neelakurinji flower is the most attractive flora here which blossoms once in 12 years. There are about 30 tea estates in Munnar most of which are owned by TATA group. Munnar was the preferred hill resort for the English people during British rule.

Other places to be seen around Munnar are Top Station, Kundalai Dam, Marayoor where one can witness caves, sandalwood forests etc and Chinnar Wild Sanctuary where a wide range of animals can be seen.
Attractions In & Around
Rajamalai
This spot is 15 kms from Munnar. "Nilgiri Tahr", a rare species of mountain goat which faces extinction is found here. The Eravikulam National Park here acts a sanctuary for this endangered species. The sanctuary covers an area of about 97 sq.kms which includes the Shola forests and grasslands.
Anaimudi Hills
The highest peak in the Western Ghats with a height of 2695m is Anaimudi. Anaimudi and the hills around it is the home of many rare species of flora and fauna. It's also a best trekking spot.
Mattupetty
Situated 14 kms away from Munnar, Mattupetty is at an altitude of 1700 m from sea level. Mattupetty is renowned for its wonderful lake and a dam which reveal the serene beauty of the tea estates and other plantations. The Kerala Government has arranged Boating facility here.
Echo Point
We can feel & wonder the echo phenomenon of the majestic mountains in Echo Point.
Devikulam
Devikulam, known for its lake and spectacular sceneries is 7kms away from Munnar.
Munnar-2 Days



Vehicle
Seats

Non A/C

A/C

Rs.
K.M Allowed
Extra Per K.M(Rs)
Rs.
K.M Allowed
Extra Per K.M(Rs)
Tata Indica
4
2,940.00
320
5.50
3,220.00
320
6.50
Toyota Innova
7
_
_
_
5,110.00
320
11.75
Tavera
8
3,915.00
320
7.75
4,550.00
320
8.75
Tempo Traveller
11
4,750.00
320
8.75
5,510.00
320
11.75
Munnar-3 Days



Vehicle
Seats

Non A/C

A/C

Rs.
K.M Allowed
Extra Per K.M(Rs)
Rs.
K.M Allowed
Extra Per K.M(Rs)
Tata Indica
4
3,690.00
320
5.50
4,070.00
320
6.50
Toyota Innova
7
_
_
_
6,610.00
320
11.75
Tavera
8
4,965.00
320
7.75
5,850.00
320
8.75
Tempo Traveller
11
6,150.00
320
8.75
7,210.00
320
11.75


* Well experienced Transport Services.
* Will pick you from Airport / Railwaystation.
* Accomodation charges not included.